BFA Nashville 1997 Meeting Plans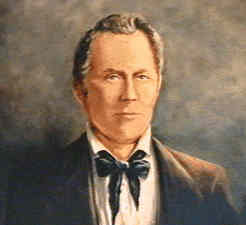 General Edward Burleson
---
Well, the meeting is over and it was a lot of fun! Stay tuned for information about the next B.F.A. gathering.
Our thanks to Mr. Ed DeBoer who provided a wonderful tour of some of the major historical attractions of the Smyrna and Murfreesboro, Tennessee area on July 5th!
---
Events for Friday, July 4, 1997
The annual Burleson Family Association board of directors meeting and "minireunion" will be held this year (July 4-6, 1997) in Nashville, Tennessee at the Crowne Plaza Hotel, 623 Union Street. An opening reception will be held from 5 p.m. until about 9 p.m. on Friday, July 4th, in Suite 4 at the hotel. All those attending are encouraged to bring Burleson-related photographs, letters and documents to share. A buffet will be provided which should preclude the need to eat the Friday evening meal elsewhere (save your money for the Dutch Treat dinner on Saturday evening!) At nine p.m. those gathered will walk down to the riverfront to enjoy a grand Fourth of July celebration with music and fireworks. Anyone with an interest in the Burleson family lineage is welcome to attend the reception as a guest. Information on BFA membership, which entitles the member to receive the excellent quarterly publication, the Burleson Family Bulletin, will be available at the reception. Anyone wishing to join can also contact:
Nancy T. McCoy, B.F.A. Vice President - Membership
P.O. Box 25, Karnes City, TX 78118
---
Events for Saturday, July 5, 1997
Everyone is "on their own" for morning activities and lunch. This might be a good time for a visit to the Tennessee Archives near the hotel or to explore the riverfront and shops. Plans are being made for a bus trip to Murfreesboro, Tennessee and Stones River Battleground National Park on the afternoon of Saturday, July 5th with a tentative departure time of 12:30 p.m. from the lobby area of the Crowne Plaza Hotel and with a return to a Nashville restaurant at about 6:30 p.m. for a dutch-treat dinner gathering. A sign-up sheet for the bus trip and Saturday evening meal will be available at the opening reception. Arrangements have been made with the Rutherford County Historical Society for one of their members to accompany us as a guide. The person they have recommended is Mr. Ed DeBoer, curator of the Oaklands Historic House, which will be on our tour. It was the home of the daughter of Lt. Col. Hardy Murfree, for whom Murfreesboro was named, and is in the process of being fully restored.
Oaklands Historic House Museum
The cost of this tour (in an air-conditioned bus provided by Gray Line transportation) will be about $18.00 per adult and $9.00 per child twelve years old or under. These prices include admission to Oaklands. A stop at the Sam Davis homestead is also planned. Admission there is about $3.00 per person.
---
Events for Sunday, July 6, 1997
The BFA board meeting will begin at 8:00 a.m. on Sunday, July 6th, in Suite 4 at the Crowne Plaza Hotel (the same room used for the Friday evening reception). Any members of the Burleson Family Association are welcome to attend (although only members of the board can vote). A continental breakfast for board members and their spouses will be available beginning at 7:30 a.m. The 1997 BFA gathering will adjourn at (or before) noon on the 6th.
The deadline for obtaining group rates for rooms is already past, but anyone wishing to see if space is still available at the Nashville Crowne Plaza Hotel can call (800) 447-9825 or (615) 259-2000.
---
Link to Tennessee Touring and Historical Research Resource Page
---
Return to main Burleson Information Page
---
Last Update 10/27/2001
---
Return to Home Page